KyMel, Inc Board of Directors
2023-2024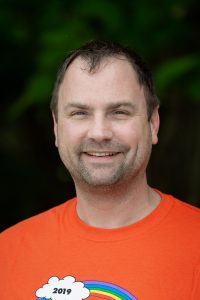 Dr. Bryan Wohlwend
President
Dr. Bryan is a pediatrician at Priority Care Pediatrics in Kansas City, Missouri. He started volunteering at Camp Hope in 2000 when he was a medical student and has been every year since. He went to KU for medical school and completed his pediatric training at Children's Mercy Hospital. He loves to travel and enjoys cheering on the Chiefs, Royals, Sporting KC and Jayhawks.
Gail Moeder
Vice-President
Gail lives in Great Bend, Kansas.  She has volunteered for Camp Hope since 1998 as a house parent and has been on the committee since 2003. She is pretty much the "local connection" to Great Bend/Barton County.  Gail is married to Alan and is an Aflac agent.  She and Alan enjoy playing golf, travelling and cheering on their favorite teams, the KU Jayhawks and  KC Chiefs.
Dr. Mandy Graul-Conroy
Secretary
Dr. Mandy is a pediatric hematologist/oncologist at Children's Mercy Hospital in Kansas City, Missouri.  She was born and raised in Southern Illinois but has moved around a lot, initially due to her husband, Brad's, military career and then for her own medical training.  She moved to the Kansas City area in 2018 with her family and hopes this will be a long-term home.  She has two children: Ian – age 14 and Wyatt – age 13.  Mandy loves travel and all types of music, especially musical theater.
Dan Kopshinsky
Treasurer
Dan is a Principal with CliftonLarsonAllen LLP, a professional services firm in Overland Park, Kansas. He provides audit, tax, consulting, and accounting services focusing on the nonprofit industry. Dan grew up in Waukesha, Wisconsin and traveled to the state of Kansas where he attended college at Kansas State University. He graduated from K-State with a Masters of Accountancy in 2009.  In his free time he enjoys traveling, spending time outside, and cheering on his favorite sports teams (Packers, Wildcats, Brewers, and Royals).
Dr. Andy Bukaty
Dr. Andy lives in the Kansas City area, as he has for much of his life.  He has been a part of the Camp Hope family since 2008.  He married his high school sweetheart in 2000 and they have one daughter, born in 2006, and one son, born in 2009, who rule their worlds.  He is a family physician and is fortunate to help lead an organization called Docs Who Care that helps staff rural communities.  The flexibility it affords him allows him to guide the organization's medical team and approach, work in rural ERs, devote time to KyMel, and spend a great deal of his time being a dad and husband.  He also enjoys film analysis/history, playing disc golf and trying to stay in shape, traveling, playing the drums, and cheering for the professional KC teams, Jayhawks and Saint Louis U. Billikens, who represent his alma mater.
Jamie Cockerham
Bio Coming Soon
Ivan Cortes
Ivan Cortes is risk analyst at Littler Mandelson P.C. Ivan graduated from Quincy University in 2015 with a bachelor's degree in Political Science and Criminal Justice. And in 2018, he graduated from the University of Missouri-Kansas City School of Law. As a college student, Ivan interned with the Director and staff at the Juvenile Probation and Court Services Department in Quincy, Illinois. There, he communicated with rehabilitation agencies, worked with adult and juveniles, and attended juvenile placement hearings. While in law school, Ivan focused his work in immigration law. Ivan has worked for Immigration attorneys in the Kansas City metro area where he worked closely with the attorneys and clients on cases of asylum, cancelation of removal, withholding of removal, and bond hearings.  Ivan currently serves on the board of directors for FosterAdopt Connect.
Eric Giovanni
Eric is Director of Operations & Business Logistics for Family Focused Treatment Association (FFTA), a leading not-for-profit membership association in North America, focused on advancing best practices and advocating for policies that support families in their care and treatment for children.  Previously, Eric served nearly twenty years at Cornerstones of Care, a Kansas City-based not-for-profit organization dedicated to strengthening children, families, and the communities in which they live.  There, Eric served in a variety of direct service and administrative roles, including as Chief Financial Officer and Chief Operating Officer.   Eric received a B.A. from the University of Notre Dame, an MSW from Washington University in St. Louis, and an Executive MBA from Rockhurst University.  When not working, Eric spends time with his wife Joan, roots for the Royals, travels, plays pickleball, and tries to keep racquetball a going concern.
Jennifer Harris-Patterson
Jenny has been the Curriculum Director at Saint Luke's Hospital Child Care Center. As Curriculum Director, Jenny oversees the state licensed center which cares for children ages  6 weeks to 12 years old.  The center is open to Saint Luke's Health System employees and is very busy!   Jenny is very passionate about the children and making sure they receive the quality care they deserve. Not only does she demand quality from her teachers, but she also partners with parents to make sure they also are aware of the whole child, their readiness for Kindergarten and all future learning.  Jenny has her B.S. in Elementary Education and a MBA in Organizational Development, both from Avila University.  When not working, Jenny loves to bake and plan events of all types and even though Jenny has been here for over 20 years, she is still a true St. Louis girl and loves her Cardinals baseball and Imos Pizza!
Katie MacDougall
Katie is a behavioral health consultant at Priority Care Pediatrics in Kansas City, Missouri. She has her master's in social work from the University of Kansas and her bachelor's degree in family studies and human services from Kansas State University. She is loyal to the purple – Go Wildcats! In her career, she has worked as a child life specialist, helping kids cope with the hospital experience and now works with families with behavioral and mental health issues. She loves to read, go to shows and concerts, and cheer on the KC Current and KSU Wildcats.
Jason Schmitt
Jason lives in Beloit, and grew up on a farm by Downs. He owns Wall to Wall Carpet & Interior, a flooring and design store, in Beloit and Concordia. He has 3 kids, a boy and 2 girls.  He had 2 battles with AML Leukemia from ages 10-15 including a bone marrow transplant the second time. This is the reason why Camp Hope means so much to him, as he attended for many years as a child and was a Junior Counselor for a couple years during his college years. He also volunteers for Make-A-Wish as a wish grantor and public speaker. This was another important organization that helped him through his cancer years.  He attended Kansas State University and has a BS in Agribusiness and since college has worked for a few companies before owning his own business and working on the family farm.  During his free time he enjoys golfing, spending time with family and rooting for Kansas State, KC Royals and Dallas Cowboys.
Tim Uryasz
Tim is the Director of Quality Assurance of Drug Free Sport International, the premier provider of drug-use prevention services for athletic organizations, including the NFL, NCAA, PGA, NBA and NASCAR. He oversees ISO9001 certification and develops an industry leading QMS, as well as evaluating procedures throughout the world. A KC native, he graduated from the University of Nebraska-Lincoln in 2011, working the following 5 years within MLB organizations. Tim is a childhood cancer survivor, a former camper at an oncology camp for numerous years as a child, a Nebraska Cornhusker and a regular traveler. Tim has been to all 50 U.S. states (Alaska #50, 2023) and 10 countries. He also currently serves on the board of directors of the Police Athletic League of Kansas City.
Judy Wagner
Judy has been attending camp since 1991. She serves as the Vice President Mission Integration for St. Joseph Health, St. Mary.  She currently lives in Victorville, CA; located ½ way between Las Vegas and Los Angeles along with her three cats.  Judy is an avid Kansas State University Wildcat fan and bleeds PURPLE!!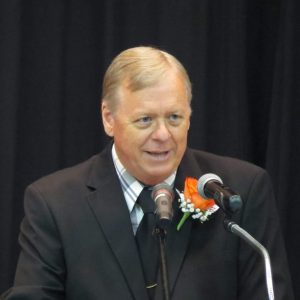 Kevin Brown
Kevin Brown is the son of Camp Hope founder "Ma Donna" Brown and the author of two books on the history of the camp.  Brown lives in Winfield with his wife, Pam, and together they have six children, four son- or daughter-in-laws, and six grandchildren. He loves to golf.
Dalton Risner
Dalton is an offensive lineman for the Denver Broncos. He graduated from Kansas State University (KSU). While at KSU he visited Camp Hope for several years and has continued to be involved in KyMel.