What is it?
Camp SIBsational is a camp for the siblings of youth with cancer.
Who can attend?
SIBsational is open to any youth aged 5 through 17 with a sibling who has, or has had, cancer.
When is it?
Camp SIBsational is held each summer typically the end of June or early August. 
How much does it cost?
Camp SIBsational is provided FREE of charge to all attendees.
Where is it Located?
SIBsational is held at Camp Wood near Emporia, Kansas. 
What kind of activities will there be?
Camp SIBsational will be a traditional summer camp experience. Some of the activities available will include lake swimming, archery, horseback riding, arts and crafts and ropes courses. (Please note, some activities are restricted to certain ages).
Volunteer selection
Our volunteers undergo a strict selection process that includes an annual background check and an annual check of the national sex offender database. We also routinely check the Kansas and Missouri child abuse databases. New volunteers must undergo an interview and reference check before being hired.
Mission Statement
To support and celebrate siblings through the cancer journey by providing a fun, active, and safe camp experience
What makes Camp SIBsational unique?
We know that the diagnosis of cancer affects the entire family. Oftentimes siblings can feel scared, neglected, guilty and even jealous. While these are all normal emotions they can make many siblings feel isolated. Camp SIBsational provides those siblings a fun experience with peers who also understand how they are feeling better than anybody else. While not a therapeutic camp, SIBsational will have mental health professionals on hand at all times to help if needed. Camp SIBsational is the first sibling-only camp of its kind in the region.
Safety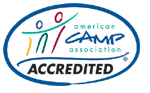 Camp Hope is accredited by the American Camp Association which ensures that the highest in safety standards are maintained for camp.  For more information, visit their website at http://www.acacamps.org/