Camp SIBsational Planning Committee
Katie MacDougall
Chairperson
Katie is a behavioral health consultant at Priority Care Pediatrics in Kansas City, Missouri. She has her master's in social work from the University of Kansas and her bachelor's degree in family studies and human services from Kansas State University. She is loyal to the purple – Go Wildcats! In her career, she has worked as a child life specialist, helping kids cope with the hospital experience and now works with families with behavioral and mental health issues. She loves to read, go to shows and concerts, and cheer on the KC Current and KSU Wildcats.
Devon O'Connor
Activities Director
Devon is a lifelong Kansas Citian and is a proud Rockhurst University graduate having obtained her B.A. in Political Science and Criminal Justice in 2015 and her Masters in Secondary Social Studies Education in 2017. She  has been working as a High School Social Studies Teacher serving KC's urban core since 2015 and is now working to obtain her Educational Specialist degree in K-12 Leadership in the hopes of one day being a principal. She loves working with students and does so in several capacities as a teacher, Taekwondo instructor at Seagull Blackbelt Academy, Speech/Debate Coach, and Activities Director for Camp SIBSational. When she isn't working, she loves to spend time with her husband (Sean), cuddle with her dog (Gussy), read, sketch, perform in local theatrical productions, sing, and do textile crafts like knitting and embroidery.
John Dobson
Camp Director
John resides in Overland Park, KS with his spirited Jack Russell-mix Bella. His multifaceted, 30+ year relationship with KyMel started as a Camp Hope camper in 1985. As a camper, John survived Acute Lymphoblastic Leukemia and as an adult volunteer he finds many rewards when former campers return as adult volunteers. As Houseparent Director he hopes to extend and foster KyMel's "family culture" to the siblings of Camp SIBsational. John is a two-time graduate of Kansas State University, most recently earning a Bachelor of Science in Human Development and Family Science in December of 2019. With his academic work and KyMel experience, he looks to certify as a Child Life Specialist (CLS). Outside of his volunteer and academic activities, he works in the Blue Valley School District as an Educational Aide, assisting children in various elements of education and development. John spends his free time cooking for friends, collecting/trading sports collectibles, cheering for his sports teams (KSU Wildcats, Kansas City Chiefs/Royals) and being a loving uncle to a host of nieces and nephews.
Hannah Peterson
Houseparent Director
Hannah is a Licensed Clinical Social Worker with a special interest in individual and family therapy. She graduated with her BSW from the University of Central Missouri in 2012. She then graduated with her MSW from University of Missouri in 2014. She specializes in grief and loss counseling, crisis intervention, trauma informed practice, cognitive behavioral therapy and brief solution focused therapy. She values cultural competency, empathy, social justice, individual expression and a good sense of humor. She has a wide variety of experiences working with youth, adults, families and the community that she will cherish for the rest of her life. One great example was during her undergraduate practicum at Saint Luke's Homecare & Hospice in 2012. She helped create a grassroots committee to create a day camp for children currently suffering from significant loss. They teamed with the YMCA and Camp Express Yourself was up and running! It still stands as a wonderful option for children to enjoy each June. Her personal favorite yearly activity is to volunteer at Camp Hope. She is a pediatric brain cancer survivor and former camper. Camp Hope is her yearly re-charge to life and is a humbling reminder of what truly matters. Last but certainly not least, she is happily married to her best friend Robert and they are blessed to have their toddler Samuel and two pesky dogs Zeek and Lulah who definitely keep them on their toes.

Dr. Mandy Graul-Conroy
KyMel Liaison
Dr. Mandy is a pediatric hematologist/oncologist at Children's Mercy Hospital in Kansas City, Missouri.  She was born and raised in Southern Illinois but has moved around a lot, initially due to her husband, Brad's, military career and then for her own medical training.  She moved to the Kansas City area in 2018 with her family and hopes this will be a long-term home.  She has two children: Ian – age 14 and Wyatt – age 13.  Mandy loves travel and all types of music, especially musical theater.
Teresa McVey
Family Liaison
Teresa is an autism consultant and been in special education for 34 years. She established Tot Olympics 30 years ago and has been a Camp Hope volunteer for 18 years. She has been married 21 years and has 5 children and 12 grandchildren. She loves working with children and helping people!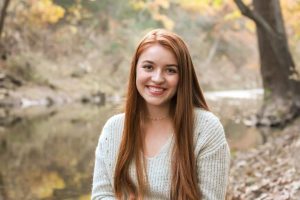 Marissa Lux
Sibling Ambassador
Marissa lives in Olathe, KS, she is a sibling ambassador for Camp SIBsational. She is currently working on her degree in Communications and a minor in Leadership Studies at Kansas State University. She is actively involved in many different organizations on campus including; Student Government, Relay for Life and Greek Life. She loves working with kids, meeting new people and going on fun adventures!
Jacey Reid
Sibling Ambassador
Jacey is from Manhattan and currently attends Kansas State University. She is majoring in Pre-Speech Therapy and will graduate next spring. Jacey has personally experienced what being a sibling of a cancer patient is like; her younger brother was diagnosed with leukemia when she was 16. Camp Hope has been a blessing to her brother, and Jacey loves the idea of SIBsational bringing that kind of joy to siblings! When she's not in class or studying for class, you can probably find Jacey at a coffee shop with friends or spending time on her dorm floor.
Catherine Coakley
Catherine lives in Kansas City with her husband, Mike, and their family.  Originally from Wichita, Catherine attended Kansas State University earning her Bachelor's Degree in Lifespan Human Development in 2004 and the University of Missouri earning her Master's Degree in Family Studies with an emphasis in Child Life in 2006.  She has worked as a Child Life Specialist since 2007 and was a Camp Hope Day Camp volunteer for 5 years. Catherine served as the Pediatric Family Support Group Facilitator for the Wichita Chapter of the Leukemia Lymphoma Society for two years before moving to Kansas City.
Ivan Cortes
Ivan Cortes is risk analyst at Littler Mandelson P.C. Ivan graduated from Quincy University in 2015 with a bachelor's degree in Political Science and Criminal Justice. And in 2018, he graduated from the University of Missouri-Kansas City School of Law.As a college student, Ivan interned with the Director and staff at the Juvenile Probation and Court Services Department in Quincy, Illinois. There, he communicated with rehabilitation agencies, worked with adult and juveniles, and attended juvenile placement hearings. While in law school, Ivan focused his work in immigration law. Ivan has worked for Immigration attorneys in the Kansas City metro area where he worked closely with the attorneys and clients on cases of asylum, cancelation of removal, withholding of removal, and bond hearings.  Ivan currently serves on the bord of directors for ForsterAdopt Connect.